About The Party Store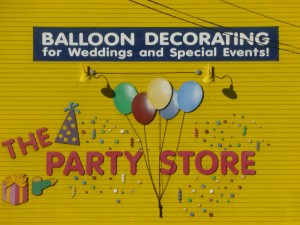 The Party Store is several stores in one!! We're a Halloween store, a kitchen store, a wedding store, a birthday store, a card store…get the idea?
We have everything you need for any kind of gathering including a huge selection of birthday themes, seasonal party supplies, costumes, theme celebrations, luau parties, team spirit, and all the milestones in your life. The Party Store has the most complete selection of cake decorating and candy making supplies. We make any event special with custom balloon bouquets and décor as well as custom banners made on site in our Rutland, Vt. Store. Locally owned, supporters of our community, The Party Store is a friend that you can turn to when celebrations are in the air. Stop today, party tonight! Celebrate with The Party Store!
The Party Store is located at:
Address: 129 Strongs Ave Rutland, VT 05701
Directions: Get Directions
Phone: 802-773-3155  and 866-906-3166
Business Hours
Monday – Saturday 10 am to 5 pm
PLEASE CHECK OUR FACEBOOK PAGE FOR EXTENDED SEASONAL HOURS. THANK YOU.